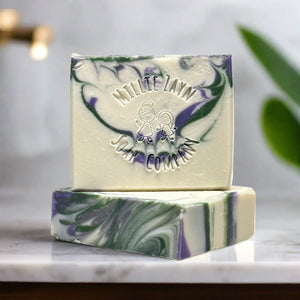 Lavender Blossom soap is scented with lavender essential oil. This natural scent has been used for centuries to promote calmness and relaxation, helping you to create a peaceful atmosphere.
 6.00 oz. 
Ingredients: Olive oil, sustainable Palm oil, Coconut oil, Water, Sodium Hydroxide, Castor oil, Fragrance, Glycerin, Kaolin Clay, Titanium Dioxide,  Chromium Green Oxide, Mica, Ultramarine, Tin Oxide.
We meticulously craft our soap bars in small batches, utilizing only plant-based oils and butters. After an 8-week curing period, the result is a long-lasting bar of soap, scented with the finest essential or fragrance oils. Our soap cleanses without stripping your skin of its natural moisture. 
For optimal satisfaction and to prolong the life of your soap bar, store it in a dry environment between uses. This product is handmade, so the actual bar may differ from the images depicted.
Using a draining soap dish works best.